How theSkimm Grew to 7 Million Subscribers in 7 Years
Competition is intense for startups in every industry, but there are few industries harder to crack than media.
With an already intimidating array of major media conglomerates competing for audiences' limited attention, it can seem impossible to not only find an audience, but expand that audience while growing a young company. In 2012, the last thing anybody wanted to do was launch another media startup. Low distribution costs, the cannibalization of audiences by Facebook and Google, and lower online advertising revenues have all made it much harder for emerging media startups to carve out a niche.
But that's exactly what Danielle Weisberg and Carly Zakin did when they launched theSkimm.
Since launching their email digest of breaking news and emerging current affairs topics for its primarily female audience, theSkimm has become one of the hottest media properties in North America. How did Weisberg and Zakin accomplish such an impressive feat? By targeting an often-overlooked audience—young millennial women—and making theSkimm an essential part of that audience's everyday routine.
Here are some of the things I cover in this article:
How theSkimm grew in a crowded space by focusing on an often-overlooked distribution channel
Why timing and the idea of routine were crucial to theSkimm's initial success
How theSkimm successfully leveraged PR to great effect as a vehicle for growth
Like many of the most successful startups, theSkimm's success story began with the dissatisfaction of its two founders with the status quo, and a desire to create a product that its audience could actually relate to.
2012-2014: Building a Company, Finding a Voice
What made theSkimm such a unique success story was that Danielle Weisberg and Carly Zakin launched a media startup by essentially reinventing something as old as the internet itself: email. It solved a real need—cutting through the noise to give readers an easily digestible take on the day's news—and did so in a way that made theSkimm indispensable to its audience.
Weisberg and Zakin first met when they were both studying abroad in Rome. They quickly became friends, and later, roommates, before both accepting roles at cable network NBC.
"These were our friends who went to the best universities—the smartest people we know—and they were asking very real questions. They weren't living and breathing the news like we were." — Carly Zakin, Co-founder, theSkimm
This gave Weisberg and Zakin an idea.
In 2012, there were very few dedicated media outlets—mainstream or otherwise—targeted exclusively at young millennial women. Weisberg and Zakin were hardcore news hounds, but their friends were busy women who didn't necessarily have the time or inclination to seek out smart, incisive analysis of the events of the day.
This was the basis for what became theSkimm.
theSkimm would be a daily email newsletter focusing on current events of the last 24 hours. What separated theSkimm from other email news digests was how it would be distributed.
Subscribers to theSkimm would receive an email every morning summarizing key political topics from the past day, but the real brilliance of Weisberg and Zakin's idea was that subscribers would receive their daily newsletter at 6 a.m. This was incredibly smart. It not only made theSkimm a predictable part of subscribers' days, but put theSkimm in front of its audience before any other news outlet. The idea was that Skimm subscribers would wake up, check their email, read theSkimm, then get on with their day. They settled on 6 a.m. because one of their friends, a young woman who worked in finance, left for work at 5:30 a.m. every morning. As a model of theSkimm's ideal reader, Weisberg and Zakin wanted to make sure that friend could read their email digest on her morning commute.
The two friends were excited about their idea. Investors, on the other hand, were not. Weisberg and Zakin shopped theSkimm around to venture capitalists across New York City, but nobody wanted to fund their idea. Investors weren't turned off by Weisberg and Zakin's idea, but rather how they'd deliver their content to their audience.
"When we started theSkimm, we started meeting with investors, industry experts, and everyone was like, 'Email is dead—this is a really bad idea.' But they would email that to us. Obviously, since then, we've seen a resurgence of email newsletters, and a lot of that, we've been told, is credited to what we've done." — Carly Zakin, Co-founder, theSkimm
Weisberg and Zakin had little in the way of capital. The two friends were living together as roommates in a rent-stabilized apartment in downtown Manhattan, and had just $4,000 in savings between them. With few options and the determination to see their idea come to fruition, Weisberg and Zakin decided to fund their idea with credit card debt.
theSkimm launched in July of 2012. Initially, Weisberg and Zakin sent the first Skimm digest to every contact in their address books. At that time, Facebook still allowed users to download friends' email addresses, so the two friends plundered their social networks for every email address the two could find. They even gathered email addresses pulled from chain emails that Zakin's grandmother would forward to her and other family members to flesh out their initial database.
Between Weisberg and Zakin, the two friends had around 5,500 contacts to start with. They sent out their very first email to this list, letting them know they'd left their jobs at NBC to pursue their own venture and inviting them to subscribe. On the first day, around 800 people subscribed to theSkimm. Modest beginnings, but they were on their way.
Business Insider was the first media outlet to report on Weisberg and Zakin's newsletter, which drove some initial growth that the two founders used as a starting point. They emailed every news anchor, media liaison, and press agent they could think of, name-dropping their experience as associate producers at NBC to entice people to check it out.
One of the few people to respond was Hoda Kotb of The Today Show, who said she'd check out the newsletter.
Four days after theSkimm launched, Kotb mentioned theSkimm during that morning's broadcast. The response was overwhelming.
"We were in Starbucks and I tried to load my email and it wouldn't load. Then someone wrote on our Facebook wall: 'Just saw you on The Today Show.' And we thought we were caught walking on the plaza in the background, and we were like, 'Oh, how embarrassing—what were we doing?' Then someone had posted what she had done. So it was life-changing." — Carly Zakin, Co-founder, theSkimm
In September 2012, hot on the heels of the growth propelled by Hoda Kotb's mention on The Today Show, theSkimm raised $60K in seed funding. This gave them enough breathing room to continue growing their audience without relying on traditional revenue streams such as advertising. Weisberg and Zakin had one goal for theSkimm: sustainable organic growth. As interest in theSkimm began to intensify, brands approached the site's two founders to talk about sponsorships and other promotional campaigns—companies Zakin described as the two founders' "wish-list brands."
While many early-stage startups would jump at the chance to accept advertising from major household names, Weisberg and Zakin turned them all down.
This was a risky play, but it was ultimately very smart. Refusing to accept advertising meant that the editorial voice of the Skimm brand wasn't beholden to corporate interests. For an emerging media brand still refining its voice and messaging, this was crucial. Rejecting ads also gave the brand a certain mystique. Given the predominant advertising-driven business model in media and publishing, theSkimm's refusal to run ads was as unorthodox as it was strategic.
Between 2012 and 2014, theSkimm grew steadily. It took the newsletter roughly one year to reach the 100K subscriber milestone. theSkimm's early PR exposure was crucial to the lasting success of Weisberg and Zakin's company. However, despite the initial spike in interest and subscribers that The Today Show helped create, the company had grown organically very steadily. To continue building upon this early momentum, theSkimm turned its attention to what would become a major driver of growth for the company—its ambassador program.
2015-2016: Going Beyond the 'News' in 'Newsletter'
By 2015, theSkimm was growing steadily. What the site needed now was a way to ramp up its growth game without sacrificing its editorial voice. It would do this by focusing not just on theSkimm as a news product, but by building and expanding the community surrounding the newsletter. theSkimm wasn't content to just be an email newsletter, no matter how successful. Weisberg and Zakin were building a cohesive media brand for a new generation of news consumers.
This was a two-part strategy:
Grow out the community exponentially via word of mouth
Build new media products that meet the needs of its audience
theSkimm launched its ambassador program in late 2015. To become a "Skimmbassador," loyal readers of the newsletter were provided with a unique referral link they could pass along to their friends. When ten of those friends subscribed to theSkimm, the referrer became an official Skimmbassador. Like many referral programs, theSkimm offered tiered rewards based on how many people Skimmbassadors successfully signed up for the newsletter.
Although theSkimm's referral program might not seem that important, it was a crucial driver of growth for the brand. Just as theSkimm had worked hard to cultivate an editorial voice and brand around its target demographic of young millennial women, the creation of the Skimmbassador program was highly strategic. It gave theSkimm a way of putting its most loyal brand evangelists to work as word-of-mouth marketers by building upon the sense of trust that theSkimm had incorporated as a key part of its editorial brand—a great example of how to build a community around a product, rather than just building products.
However, theSkimm didn't just rely on swag to persuade people to refer their friends to the newsletter. theSkimm also created invite-only Facebook and LinkedIn groups where Skimmbassadors could network and chat with one another, further reinforcing the sense of community around theSkimm itself. Furthermore, Skimmbassadors were also notified of internship and job opportunities with theSkimm before anyone else. As a hip, emerging media brand keenly aware of how difficult it can be to break into a career in digital media, this was very smart.
In 2016, theSkimm introduced the third component of its business: Skimm Ahead. Having established itself as a new media product around which it had created a growing community of loyal readers, theSkimm wanted to make itself indispensable to its audience in other ways. To do so, it launched Skimm Ahead, theSkimm's calendar app.
"For us and our friends, we look at our phone, and I immediately look at my calendar, and I'm sure you are like us, and you live on your calendar as well. So we thought that was a really interesting way to deliver information." — Carly Zakin, Co-founder, theSkimm
Skimm Ahead is a subscription-based calendar application that integrates seamlessly with users' existing calendars to provide users with at-a-glance information about forthcoming events. This might not seem like the most logical digital product for theSkimm to develop, but it actually made perfect sense. The real brilliance of theSkimm as a concept wasn't the newsletter itself, but the idea of becoming an integral part of the audience's daily routine. If you think of Skimm Ahead in this context—of becoming an integral part of how Skimm readers planned their week—it starts to make a lot more sense. Within the first month of launching, Skimm Ahead was the number-one app in the News section of Apple's App Store, beating even The New York Times' and the Wall Street Journal's apps in terms of downloads.
Shortly after the launch of Skimm Ahead in April 2016, the company did something it had never done before—it proactively reached out to its audience and encouraged readers to get out and register to vote.
The initiative, which theSkimm dubbed its "No Excuses" campaign, partnered with nationwide voting registration advocacy group Rock the Vote to reach out to young prospective voters and convince them to register or update their registration for the 2016 presidential election. Prior to the official launch of the No Excuses campaign, theSkimm interviewed 12 prospective nominees from both parties, in a job interview-style format. Overall, the initiative was extraordinarily successful, with more than 110K young people registering to vote as a result—more than 95K of whom were women.
What made the No Excuses campaign so successful wasn't theSkimm's partnership with Rock the Vote (though it doubtlessly helped), but how theSkimm expertly leveraged its editorial voice and trust among its audience to promote the cause of civic participation.
When theSkimm urged its readers to register to vote, it didn't feel condescending; it felt inspiring.
At the time, theSkimm had attracted more than its fair share of criticism from other media outlets that attacked Weisberg and Zakin's site for doing their readers a disservice by oversimplifying complex, nuanced topics.
"The Skimm treats its readers like they've never read an article, looked at a map, or accidentally seen a CNN segment in their dentists' waiting rooms. Its patronizing tone assumes that female news consumers tune out anything of import if it's not processed through verbal eye-rolls. The very existence of such a service, especially one marketed specifically to women, is insulting." — Christiana Cauterucci, Slate
Some of this criticism was justified, but the majority of such criticism missed the point. From the outset, Weisberg and Zakin had purposefully avoided heavily editorializing current affairs topics, partly out of concerns that doing so would lead to the same fractured, polarized audiences that mainstream outlets were struggling to balance. Avoiding overly partisan positions also aligned strongly with what theSkimm sought to be as a news product: a place where millennial women could learn about complex, multifaceted topics that would empower them to join further conversations about these ideas.
Put another way, theSkimm never wanted to tell women what to think, but to give them the information they needed to make those decisions for themselves. The site's refusal to take overly partisan positions was an extension of this brand attribute, not a failure of journalistic integrity, as some had argued.
With an audience of around 4M subscribers and the success of its highly visible voter registration drive, theSkimm had become a relatively small but rapidly growing media brand with an increasingly engaged, highly motivated, and strongly brand-loyal audience. Many major media conglomerates had kept an eye on the growing media company for some time, but in June 2016, the company announced it had raised a Series B round of $8M led by 21st Century Fox. By this point, theSkimm had a valuation of approximately $55M. Although the injection of cash from 21st Century Fox was welcome and would allow theSkimm to ramp up its content production operations, the company was still deriving most of its revenue from advertising and sponsored content for brands such as Google, JPMorgan Chase, and Starbucks.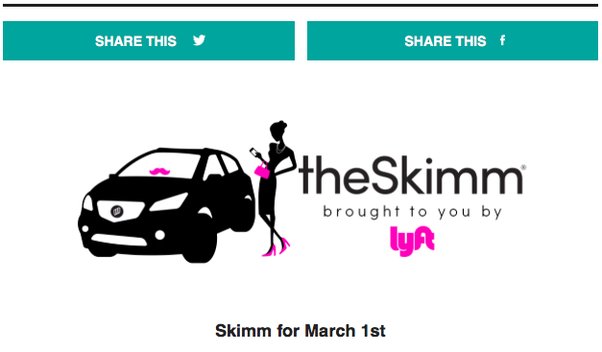 Some companies are understandably reluctant to broadcast to the world how they plan to use sudden injections of cash, but not theSkimm. Soon after the announcement of its Series B round, theSkimm unveiled plans to move into producing video content via its newly launched Skimm Studios, a platform it launched using the investment from 21st Century Fox. Both Weisberg and Zakin had worked in video at their prior roles at NBC, making video content a strong, logical move for the two founders.
By September 2016, theSkimm had an audience of roughly 4M readers. Hot on the heels of its considerable Series B round, theSkimm raised an additional $500K in a secondary Series B round.
Armed with a growing audience of loyal readers and passionate brand advocates, theSkimm was ready to expand once again, and it would do so by branching out into even more content and expanding its editorial scope beyond breaking news.
2017-Present: Reimagining News as Product
By 2017, theSkimm had an audience of more than 5M subscribers. Approximately 80% of Skimm readers were female, and almost half earned $100K per year or more, highlighting how valuable theSkimm's audience was. What Weisberg and Zakin's brand needed now was more ways to drive revenue and diversify its range of content products—and it would do so by expanding into audio content.
Weisberg and Zakin were no strangers to controversy by this point in theSkimm's growth. Many outlets had criticized theSkimm for its simplistic tone, but the summer of 2017 saw media coverage of the newsletter become a lot harsher. Much of the most biting criticism stemmed from theSkimm's coverage of the first few months of the Trump administration. In a particularly scathing piece, Christina Cauterucci described theSkimm as "the Ivanka Trump of Newsletters," claiming the site was doing its readers a grave disservice by oversimplifying complex topics.
However, the site did have its defenders. Writing in Columbia Journalism Review, Kaitlin Ugolik praised theSkimm for reaching out to traditionally overlooked audiences and demographics. Other media pundits pointed out the fact that theSkimm often links to other more detailed sources, providing subscribers with the option of reading further into complex, divisive topics—exactly what Weisberg and Zakin set out to do. The fact that so many media outlets focused on theSkimm's editorial voice, rather than its mission, revealed just how few people really got what theSkimm was about.
"Since the election, journalists have been doing a lot of soul searching, and much has been written about how reporters and editors need to work harder to connect with swaths of the country they've long ignored, especially the rural poor. That isn't necessarily theSkimm's demographic…But the newsletter is reaching out to a group, millennial women, that is underserved in other ways, regularly underestimated and written off at times as entitled and uninterested." — Kaitlin Ugolik, Columbia Journalism Review
Despite the barrage of criticism, theSkimm continued to grow throughout 2017. By the end of the year, the 50-employee strong company had an audience of almost 6M subscribers. By 2018, theSkimm had grown into a burgeoning media empire. Having built this empire on a foundation of content, theSkimm set about diversifying that content even further. First stop, podcasts.
In February 2018, theSkimm launched Skimm'd from the Couch, a podcast in which Weisberg and Zakin interview female entrepreneurs. The move into podcasts wasn't terribly surprising. Podcasts have seen a resurgence in interest in recent years, with one-third of Americans between 25 and 54 years of age listening to at least one podcast every month. What is interesting, however, is Weisberg and Zakin's choice of subject.
It would have been easy for the two founders to create a news or current affairs podcast based on the content theSkimm was already distributing to its audience. However, the choice to focus on entrepreneurship, particularly among women, was incredibly smart. Not only did this tap into a timely, relevant topic, it was also a smart extension of theSkimm's brand values. From the outset, Weisberg and Zakin sought to empower women; discussing entrepreneurship with women who have built and grown their own companies was the perfect extension of theSkimm's overarching mission. It also opened up the Skimm brand to a whole new class of advertisers eager to get in front of theSkimm's audience.
"It has always been about staying true to our vision and staying true to our audience in that whatever we create has to be additive. It has to be a voice that they trust, and it has to be part of what they actually need to get through their day. That's what they find whenever they interact with our products." — Carly Zakin, Co-founder, theSkimm
Shortly after launching Skimm'd from the Couch, the company announced it had raised $12M as part of its Series C round, led by Google Ventures—almost double the company's previous largest funding round. theSkimm would use this funding to further build out its podcasting operation and develop additional subscription-based products, though no new products have been announced since the company secured that round of funding.
Although theSkimm played its cards close to its chest, the company told TechCrunch in a prepared statement that it planned to use its latest funding round to "continue evolving the brand" by developing new subscription products and expanding both its free and premium product offerings. It's certainly possible— or probable—that investors are privy to forthcoming products, but it's just as likely that theSkimm's 7M-strong and growing audience was of even more interest to Google Ventures and other investors in the company's Series C round.
Despite the ruthless competition in the contemporary media space, theSkimm has carved out its own niche and grown its audience by remaining true to the original vision of its founders. The only real question facing theSkimm now is how the company will successfully branch out into new revenue streams without alienating the audience it has worked hard to develop.
Where Could theSkimm Go From Here?
As a comparatively small but growing media company, theSkimm is at a pivotal point. Where could theSkimm go from here?
1. Media partnerships.
As theSkimm's audience grows, so too will demand for fresh, timely, relevant news content. One way theSkimm could address this need is to partner with other media organizations with similar audience demographics, or by syndicating Skimm content across more established mainstream media properties. theSkimm has already developed relationships with key media partners to publish the native content that appears in the newsletter, so further cultivating these relationships across theSkimm's other media properties seems a likely move for the company in the future.
2. Deeper analysis and more substantial content.
theSkimm leveraged its bite-sized, almost irreverent editorial voice to great effect during its earlier years. However, as the company seeks to maintain its growth, it seems almost inevitable that theSkimm will have to refine its editorial voice and content formats to effectively compete with other millennial-focused media outlets such as Vox. This could include deeper, long-form analytical content diving into complex, nuanced topics that make simplification challenging, and even data-driven content products such as analytical reportage.
3. More physical and digital products.
theSkimm has sought to position itself as a diverse media company with the potential for multiple revenue streams. One likely direction theSkimm could take would be to develop more physical products (building upon the limited range offered to brand ambassadors), as well as more digital products and apps similar to Skimm Ahead. theSkimm's subscription business drives a significant portion of the company's revenue, making the development of additional subscription products quite likely.
What Can We Learn From theSkimm?
Despite operating in one of the most intensely competitive verticals there is, theSkimm has plenty of lessons to teach entrepreneurs and founders in every industry:
1. Focus relentlessly on your core audience/user base.
theSkimm has been criticized for simplifying complex topics and making assumptions about its audience, but that's not the point—they've always focused relentlessly on providing news and content in a format that their audience wants. It takes guts to reject conventional wisdom in this way, but as theSkimm has proven, it can pay off. This is a great example of how to listen to your audience/customer.
Think about your users:
What is your core user's greatest need, and how does your product meet this need? Are you proactively building your products for these users, or are you reactively developing products to appeal to a potentially broader audience?
During the earliest days of your startup, what advice did you receive over and over again? Did you listen to this advice? For theSkimm, defying conventional wisdom about email newsletters was instrumental to the company's success—but it could easily have gone the other way, and theSkimm may never have existed at all.
theSkimm has taken great care to cultivate a strong sense of community around its brand as well as its individual products. How are you doing the same? What incentives do your most loyal users have to become brand advocates for your company?
2. Resist the temptation to monetize too fast.
One of the smartest decisions theSkimm ever made was to reject brand advertisers early on. Doing so may have harmed the site's revenue potential, but it gave the brand time to grow its audience without the additional pressures of advertiser expectations that could have compromised Weisberg and Zakin's vision and alienated its growing audience.
Take a look at your monetization strategy:
Did you have a plan for monetization from the outset, or did you focus on building your product first? If it's the former, how has your monetization strategy impacted your product's development?
If you're considering accepting advertising or sponsorships as part of your monetization strategy, how will this affect the overall experience for your users? For example, do you plan to leverage premium features to drive growth, or will you emphasize a lack of advertising to encourage signups for your product, as Spotify did?
Whether you're accepting ads or not, what kind of brands would be suitable advertisers for your product? Even in the early days of theSkimm, Weisberg and Zakin turned down brands that could have attracted significant revenues and aligned with theSkimm's aesthetic and values—companies that Zakin described as "wish-list brands." Could you do the same?
3. Focus on product, then growth.
Too many companies transition into a growth mindset before they're ready. Even the greatest, most innovative products take time to gain traction, but shifting the emphasis from product to growth too soon can cause more problems than it solves.
Think about your product roadmap for the next year:
Are you working toward a specific, tangible milestone at which you plan to ramp up growth? If so, is this target realistic, and will the timing be right for your company to shift into a mindset of growth?
What would a conscious shift in focus from product development to growth look like for your product? How easy—or difficult—would this transition be?
What, if anything, would tempt you to ramp up growth before your product is ready? How could you hedge against these factors to ensure you're not making the transition too soon?
News, Views, and Revenues
theSkimm is a remarkable success story in a crowded, intensely competitive space that's traditionally hostile to newcomers. Weisberg and Zakin overcame many significant challenges in their journey to a multimillion-strong readership, not least of which was rejecting the conventional wisdom of would-be investors and resisting the temptation to compromise their editorial brand by accepting advertising too soon.
As the consolidation of mainstream media continues, theSkimm's biggest challenges will be broadening its reach without compromising on its voice, mission, or brand values, and diversifying its products to create additional revenue streams. One thing's for sure, though—it certainly won't be boring.
Get the best content each week for creating better products, faster.