Want Your Startup to Keep Growing? Become a "Next" Company.
There are two ways to get SaaS businesses off the ground: they either start with product, or they start with movement.
David Cummings explains it best in his short article:
"Product-first companies absolutely adore their own product. Everything centers around building an amazing product that customers love and everything else comes second."
Product-first companies focus entirely on building an amazing product in their early days. Their dominant sales and marketing strategy is that the "product should sell itself," and they rely on word-of-mouth to scale their business early on.
Product-first companies often take off initially because they beat out the existing competition. In time, the playing field levels and they have to move to new markets or undercut the competition.
On the other hand, Cummings says:
"Movement-first companies are on a mission greater than themselves. Everything centers around educating the market about this better way to do things, most often through live events and heavy sales and marketing."
Early-on, movement-first companies focus on generating awareness around them. They do a great job of talking to their audience and identifying the pain points that they're trying to solve. Over-time, more companies move into the space with better products.
Whether you're a product-first or movement-first company, eventually you have to completely refocus your strategy and become a "-next" company.
Product-First
→

Movement-Next

If you're building a product-first company, you're often a developer or an engineer who's found a glaring problem. You know you can fix it better than the solutions out there, so you build a company out of it.

If you're…
Monopolizing your current market
Trying to move upmarket and win larger customer accounts
Not developing traction for new products
…then it's time to rethink your business model.
Your earliest customers are typically other startups who appreciate what you've built. Eventually though, to keep growing you have to expand to newer markets. You have to build your brand and win over hearts and minds to continue to grow. You have to transition into a movement-next company.
Movement-Next: Atlassian
JIRA, Atlassian's first product, was an issue-tracking tool that helped software developers better communicate online. Developers loved JIRA's product, and it began to catch fire within teams and companies. This flywheel model of growth has driven Atlassian for the past 10 years.
As a product-first company, Atlassian's tag line could be summed up as follows:
"Issue-tracking for developers, by developers"
Atlassian had the product down. But they wouldn't be where they are today if they only focused on building the best issue-tracking software.
As a movement-next company, the focus shifted to:
"Helping teams work better, from startups to the enterprise"
Timeline:
2002: Mike Cannon-Brookes and Scott Farquhar, co-founders of Atlassian, launch JIRA on $10,000 in credit card debt.
2004: Atlassian launched Confluence. Confluence started out as a wiki-style tool for developers that developed over time into a collaboration tool for teams similar to Asana or Trello.
2007: Atlassian acquired Crucible, Fisheye, Bamboo, and Clover—products that helped Atlassian target customers with existing code bases.
2010: Atlassian acquired Bitbucket, a Git-based hosted tool for collaborating on code.
2015: Atlassian IPOs at a market cap of $5.8B.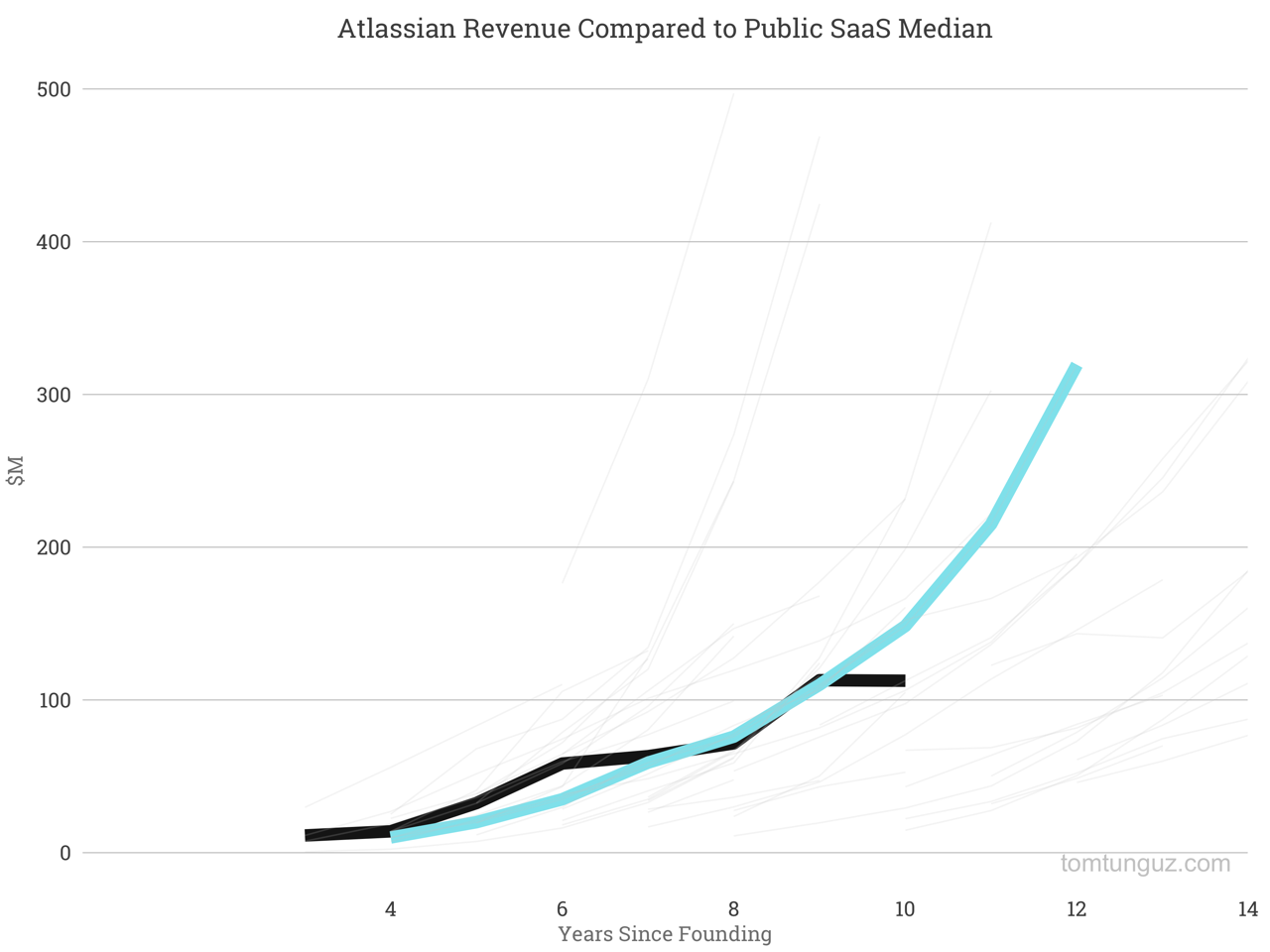 In the graph above, Tomasz Tunguz charts out Atlassian's revenue growth in blue, comparing it to the SaaS median in black. Atlassian's sudden growth spike hit around 2010, after the company had consolidated its position through strategic acquisitions.
As Atlassian co-founder Mike Cannon-Brookes points out in a slide deck, the company's philosophy was simple: "Needed them. Couldn't find them. Bought them."
Product-First: Intercom
Intercom began with a free messaging service that you could install on your website or in-app for free. Their mission was to make talking to your customers suck less.
While companies like Olark offered live-chat, Intercom's product was unique because it combined messaging with a CRM. Instead of bouncing between messages on Olark, tickets on Zendesk, and your own email, you could suddenly talk to all of your customers in one place.
As a product-first company, Intercom's tag line was:
"Intercom is a customer relationship management platform and messaging tool for web app owners"
As Intercom became the go-to-solution, companies like Zendesk started to copycat in retaliation, building their own messaging features. Meanwhile, up-and-comers like Front and Drift started to come at messaging from the bottom up.
Intercom today can't just rely on how good its product is. They have to expand past a passionate set of tech-savvy users to win over the hearts and minds of the bigger market.
Transitioning into a movement-next company, the company's new tag line is:
"Intercom makes communicating with customers really easy"
Timeline:
2012: Intercom launches its in-app messaging product and customer relationship management tool.
2013: Launches its first new product, a list of live users on your website that you can talk to through email or chat.
2014: Zendesk acquires Zopim, a company that specializes in live chat, for $29.8M. Also announces official integration with the SnapEngage chat app.
2016: Intercom narrows down from five products, to four, and finally to three. It launches its first conference-style event, the "Inside Intercom World Tour." It also announces a developer program, making it easier to integrate software into its platform.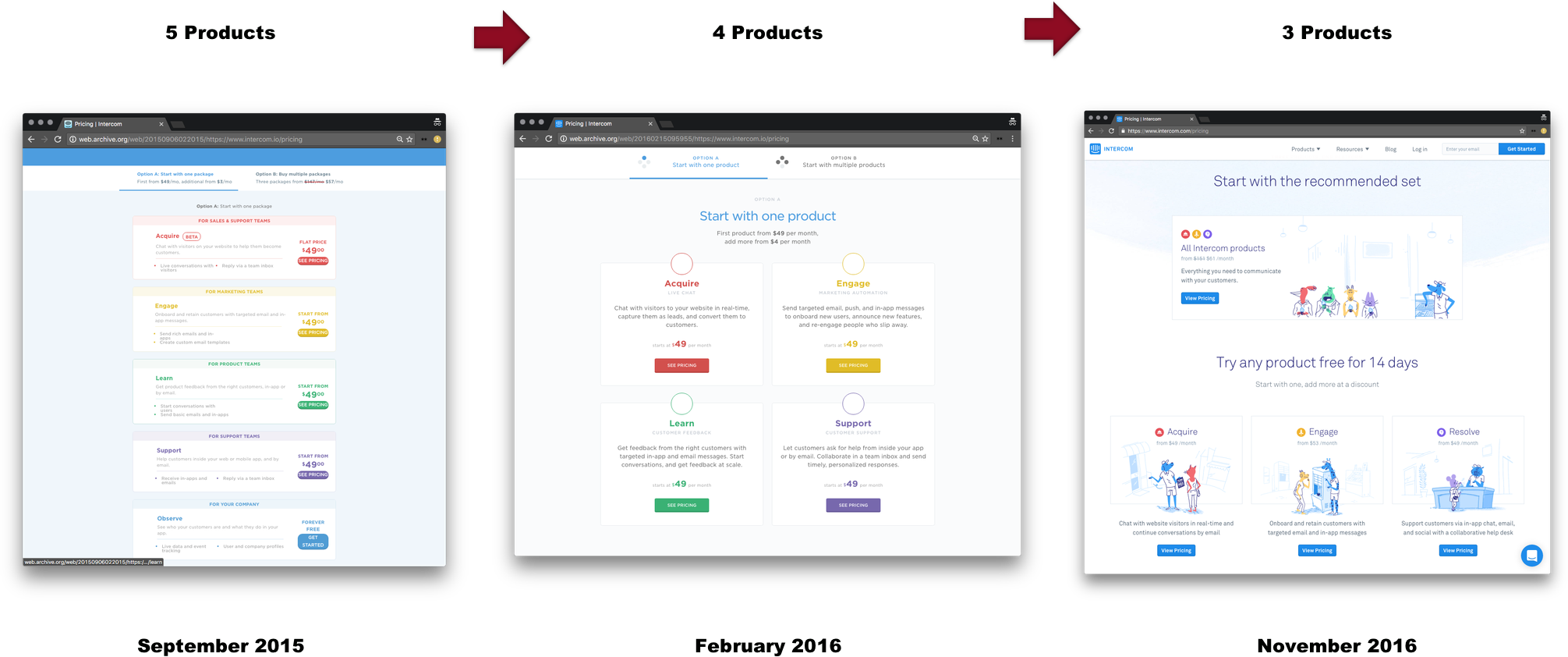 By offering five different products to customers, Intercom could tap new markets and see what stuck. By opening up their products through APIs and WebHooks, they make switching from other products much easier for customers.
Intercom is still figuring out the transition. In the past year, Intercom has whittled five products down to three. The company has shifted its pricing strategically to get customers on the whole platform, rather than any single product. Instead of just relying on the product to "sell itself," Intercom is moving to make it easier and cheaper for customers to switch from other solutions.
We'll see what happens next!
Movement-First
→

Product-Next

If you're building a movement-first company, you're often a marketer or a salesperson who has identified an opportunity in the market and jumps in. You operate with a first-mover's advantage and brute-force sales and marketing in order to build your brand and educate your audience about what you're creating.

If you notice….
A high rate of customer churn leading to low LTV
Low customer satisfaction leading to high CAC
Competition taking market share
…These are all signs that you might be trying too hard to grow at the expense of your product.
As the market gets more competitive and product-first companies move into the space, you eventually need to turn your focus to building a better product. It's time to become a product-next company.
Product-Next: HubSpot
HubSpot was founded by three MBAs from Harvard and MIT. In the early days, HubSpot's customers were mostly non-technical SMBs.
Through books, white papers, and webinars, HubSpot evangelized its audience around the need for inbound marketing, and offered a suite of SaaS tools as the solution.
As a movement-first company, HubSpot's tag line was:
"All-in-One Marketing Software"
Early on, the convenience of having all of these tools in one place was more important than the fact that HubSpot didn't have the best product. As Marketo, Eloquence, and a variety of other companies started taking parts of HubSpot's market, the company had to shift gears.
As a product-next company, their tag line is now:
"A full stack of products for marketing, sales, and customer relationship management"
Timeline:
2009: HubSpot co-founders Dharmesh Shah and Brian Halligan publish "Inbound Marketing." HubSpot launched its free Website Grader which generated leads by identifying a website's shortcomings, analyzing over 2 million sites within 6 months of launch.
2012: Acquired Performable, and recruited the company's CEO David Cancel as Chief Product Officer. David turns product around by cutting the size of product teams and focusing them around the customer.
2013: Launched Inbound Academy to educate people about inbound marketing. Acquires Chime and PrepWork to fit into the theme of "more personalized conversations."
2014: HubSpot announces its IPO, with a market cap of $700 million dollars.
The final product in this effort is HubSpot's consolidated Growth Stack, which it describes as "a full stack of products for marketing, sales, and customer relationship."
By connecting various sets of tools together into an entire stack, HubSpot built an all-in-one SaaS product that services all of its users' marketing, sales, and customer relationship needs.
Movement-First: Hootsuite
Ryan Holmes started Hootsuite in 2008 because he needed a way to manage multiple Twitter accounts for his digital agency's clients. Nothing in the market fit his needs, so he created Hootsuite, a basic toolbox for Twitter.
Hootsuite was one of the first in the space, and the company jumped on the opportunity quickly. In a year, the logos on Hootsuite's site included: Fox, Disney, and Dell.
As a movement-first company, Hootsuite's tag line was:
"The professional Twitter client"
Hootsuite now offers nine different products that connect to over 35 different social networks. Hootsuite was able to move quickly and expand to new social media channels before the competition. Today though, the company's challenge is to simplify.
Transitioning to a product-next company, Hootsuite's tag line is now:
"Simplify your social media publishing"
Timeline:
2008: Hootsuite launches its basic Twitter toolkit.
2009: Release of Hootsuite 2.0, which includes added functionalities for teams. Expands to Facebook and LinkedIn.
2014: Acquisition of Brightkit allows Hootsuite to offer an enterprise solution for creating custom marketing campaigns.
2016: Hootsuite launches Hootsuite Academy for educating marketers around social media—much like HubSpot did with Inbound Academy. Hootsuite acquires Sales Prodigy, a tool for helping companies sell over social media.
Hootsuite can't rely on being the first mover forever. Product-first competitors like Buffer are advancing down-marketing, while companies like Sprout Social are looking upstream. To compete, Hootsuite will have to change course and focus on product.
Consolidation in SaaS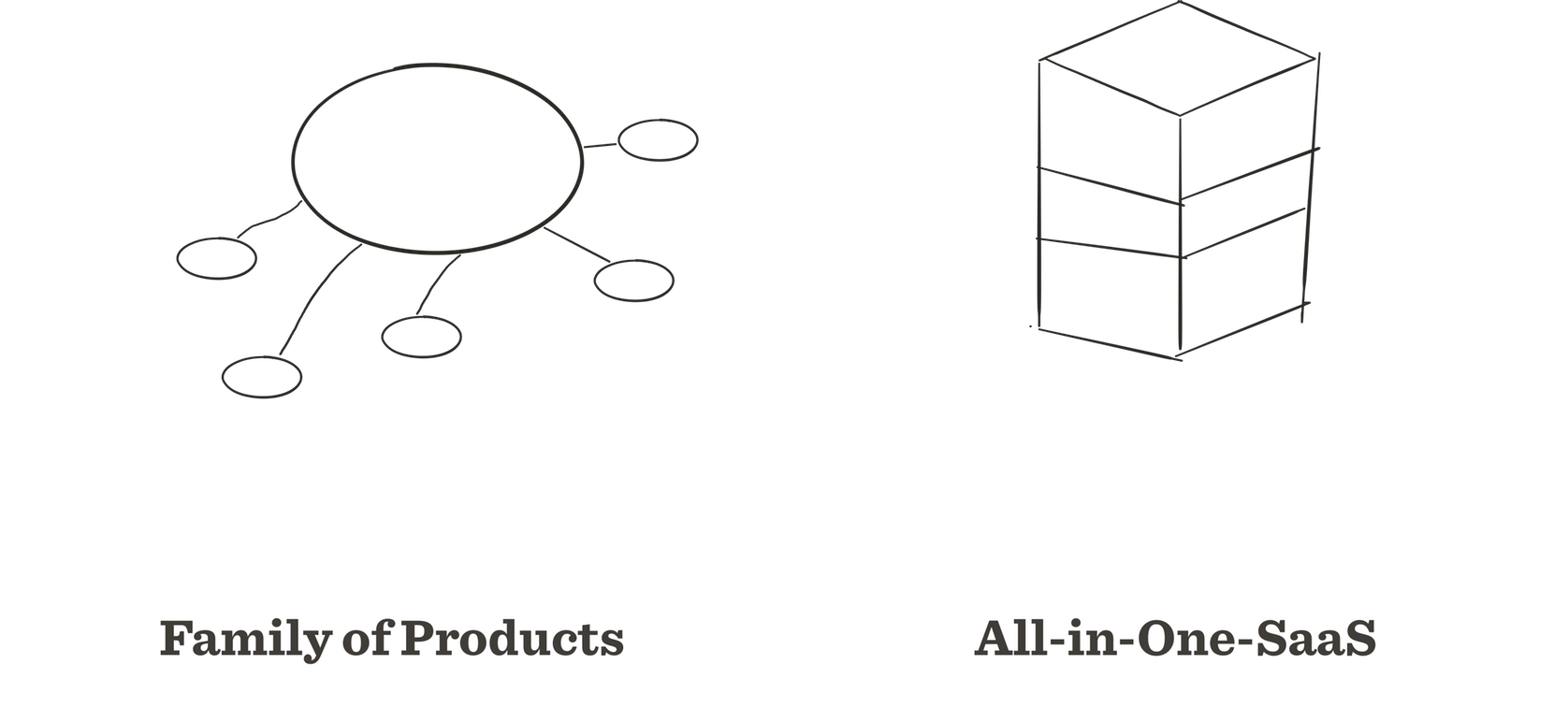 Product-first, movement-next companies like Atlassian focus on developing and acquiring new products that can fit under the umbrella of a single brand. By facilitating integration with the broader ecosystem, they make it easier for customers to try them and consider the switch to their full platform. It can get messy, but building a family of products is what allows these companies to hedge their bets by testing new markets.
Movement-first, product-next companies like HubSpot trend toward offering a full-stack solution to the market. They strive to be the all-in-one, dominant solution in the marketplace.
Acquiring new products isn't about making a defensive play in market—it's about consolidating a company's position as the all-in-one solution.
The order in which you grow your startup matters. Figuring out the direction that you came from helps you figure out where to go next—whether you're a company of 10—or 10,000.
Get the best content each week for creating better products, faster.