How Glossier Turned Into a $400 Million Business in Four Years
Long before she was CEO of a burgeoning style empire, Emily Weiss began her day like many entrepreneurs—working hard on her side hustle before heading off to her day job. Except for Weiss, her day job didn't mean an invisible role in a thankless office or brewing coffee at her local Starbucks. Weiss was an editorial assistant at Vogue, and her passion project—a style blog called Into The Gloss—would eventually launch a company that would, in Weiss' words, "democratize beauty."
That company was Glossier.
Glossier (pronounced to rhyme with "dossier") isn't your average beauty company. Weiss built Glossier around a simple question: What if beauty brands actually listened to women? In less than four years, Weiss was able to grow a blog into a $400M business by simply asking women what they wanted instead of telling them what they wanted.
Since founding Glossier in 2014, Weiss' company has attracted the kind of cult millennial following that larger, wealthier brands envy. But how did she do it? What is it about Glossier's approach to feminine beauty products that resonates so strongly with her audience? And, perhaps most importantly, how does Glossier differentiate itself in such a savagely competitive industry?
Let's look at:
How Into The Gloss used content as a low-cost way to build a vast audience of loyal fans they could later sell products to
How Glossier achieved impressive growth quickly by positioning itself as an accessible lifestyle brand, rather than focusing solely on promoting products
How Glossier uses community, content, and branding to create and maintain a culture of inclusivity and attainability in an industry renowned for its exclusivity
We'll explore how Glossier took on some of the wealthiest legacy brands in one of the most competitive industries in consumer packaged goods—and beat them at their own game.
2010-2013: The Origins of Style: Into the Gloss and the Genesis of Glossier
In just eight years, Glossier has become one of the premier beauty brands in the U.S. However, what's most interesting about Weiss' approach is that she never intentionally set out to create a product-focused beauty brand. Before launching Glossier, Weiss made a name for herself in the beauty industry with her blog, Into The Gloss.
Weiss' central idea was to reframe the conversation about beauty. Dissatisfied with the current landscape of the consumer beauty industry, Weiss wanted to give women a voice and a platform to talk about beauty. Prior to the launch of Into The Gloss, beauty brands and websites typically favored a top-down approach. Beauty brands created cosmetic products, then spent millions of dollars on traditional TV, print, and ambient advertising campaigns to promote their products to women.
Effectively, beauty brands were telling women what was on-trend, fashionable, and desirable.
"I wanted to start this new conversation around product that was more through the lens of personal style, rather than beauty be coming from a product- or launch-driven perspective." – Emily Weiss
Tired of being told what beauty was by major brands, Weiss wanted to tell the stories of the women who bought these products. She wanted to know what real women were buying and why. She wanted to know who they were, what beauty meant to them, and how cosmetics fit into their personal style and daily routines.
Weiss wanted women to tell their own stories, rather than having their stories dictated to them by fashion and beauty brands. She set out to build a community around trust and authenticity. Her platform would give women an opportunity to discuss beauty products in a genuine, low-cost way by circumventing the tastemakers and influencers who served as de facto gatekeepers of the fashion and beauty industries.
Weiss did two things brilliantly early on that laid the foundation for much of her brand's later success:
Recognize the potential of content and social media to build community
Focus on accessibility and attainability rather than exclusivity
First, Weiss saw that many major beauty and fashion brands had not yet begun to leverage social media as a communication tool. At that time, the beauty brands that had been early adopters of social media were using it purely self-promotionally. They used social media in the same way they used TV. Rather than engaging prospective fans and customers in conversation, these brands saw Facebook and Twitter as little more than platforms through which they could broadcast their content.
Secondly, Weiss used Into The Gloss to show its readers how they could look and feel glamorous without spending a fortune. The focus of this content was the women Weiss featured and their stories. The products were secondary.
By finding a then-underserved editorial niche in a rapidly growing vertical' beauty blogging, Weiss had also discovered an idea for a potential business.
2010: The Into The Gloss blog launches. Initially, Weiss publishes three times per week. Weiss writes, publishes, and publicizes all the site's content singlehandedly between 4 a.m. and 8 a.m. before going to work at Vogue.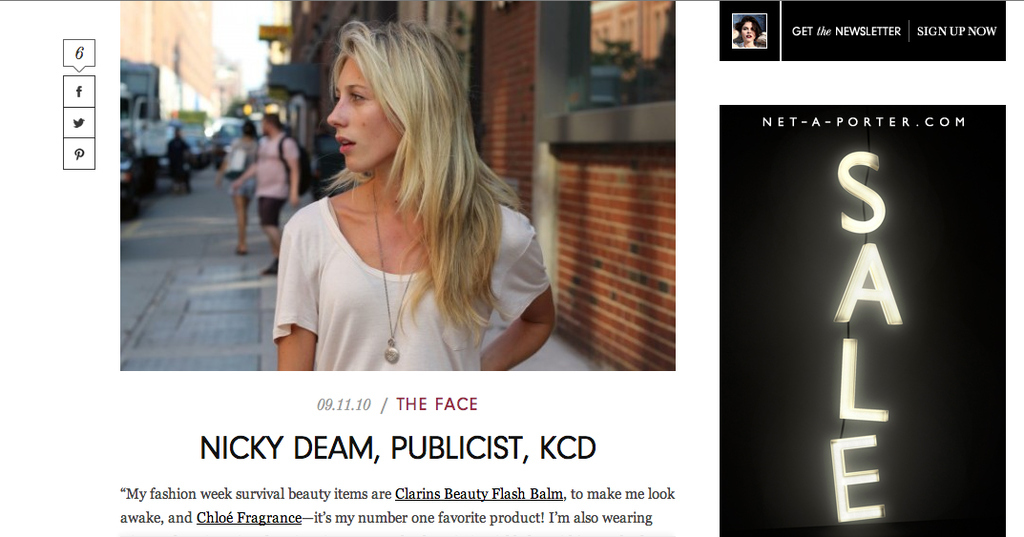 2010: Weiss spends $700 of her own money to fund initial costs. Beyond this investment, the site's costs are covered entirely by advertising (sidebar ads) and sponsored content.
2012: Less than two years after launching, Into The Gloss attracts 200,000 uniques and 4.5M pageviews per month. The site's stylish, minimalist design aesthetic and its celebrity beauty secret articles are extremely popular with readers. Much of the site's growth in traffic during this period is attributed to an increase in the site's publication frequency from three times per week to three times per day.
2012: Elle's senior fashion news editor, Nick Axelrod, leaves to join Weiss to help run Into the Gloss.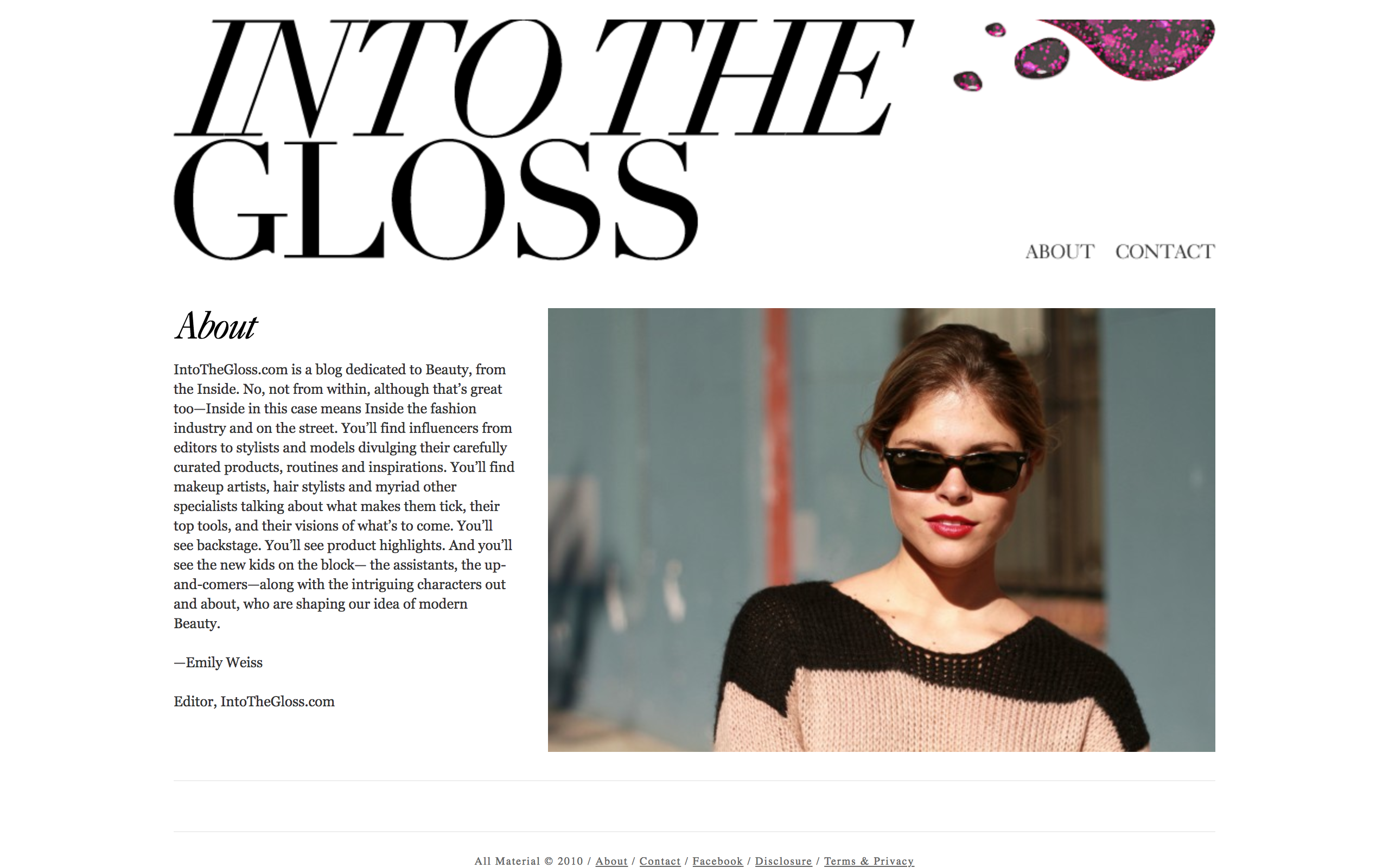 During this period, Weiss continued to build the Into The Gloss brand. By focusing on the women who used beauty products rather than the products themselves, Weiss' blog appealed to women who wanted to learn more about beauty products that would fit into their lifestyles and daily routines. As a result, the blog's traffic continued to grow. Weiss had developed a keen eye for fashion storytelling during her time in editorial roles at Vogue and W, and she used this knowledge to develop the customer-focused content that would ultimately define her brand.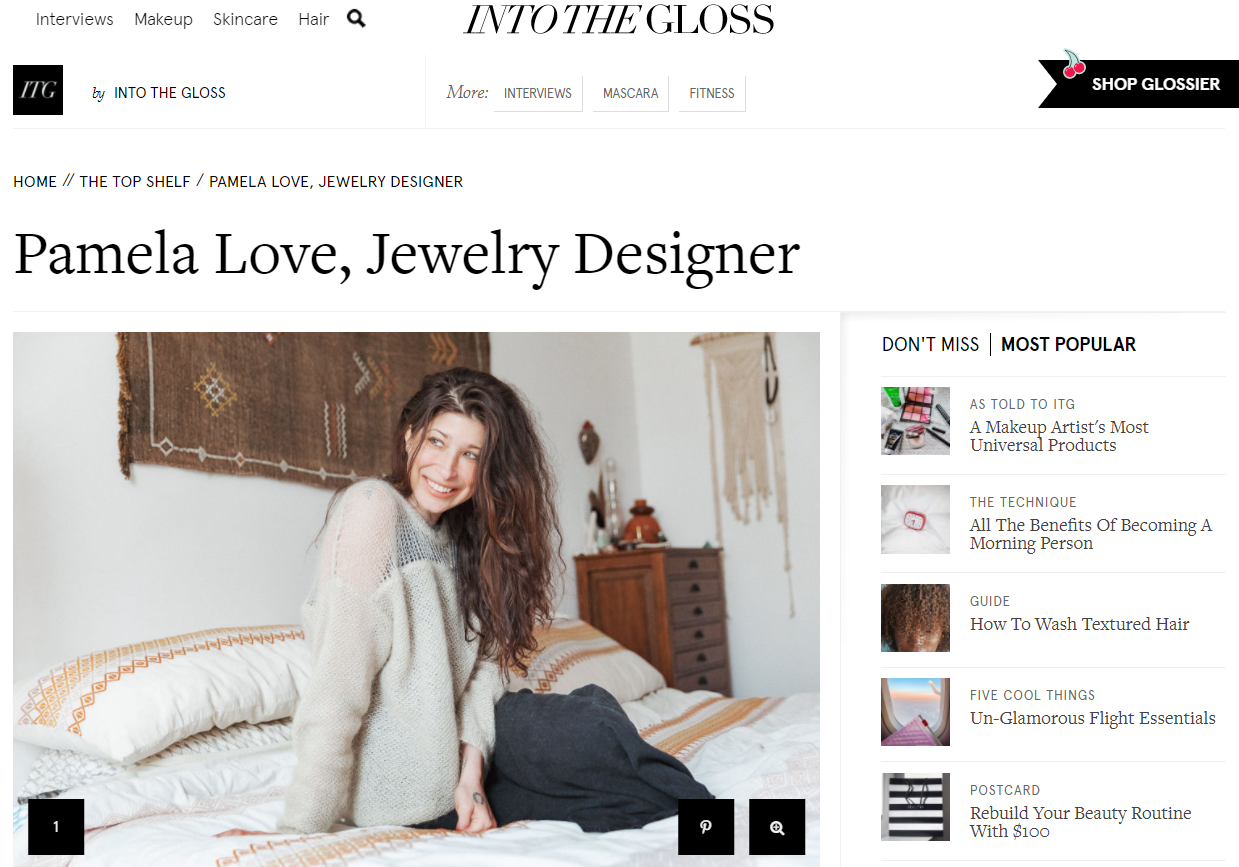 Launching a brand-new beauty blog might be an uphill struggle in 2018, but back in 2010, far fewer people were blogging about beauty. Between 2010 and 2013—the most crucial years of Into The Gloss' growth—beauty blogging was becoming increasingly popular. Weiss rode that wave with a new perspective that took the industry by surprise. Prestigious industry events like runway shows, product launches, and even New York Fashion Week were being overrun by beauty bloggers seeking to get even closer to their subjects—a phenomenon Weiss described as a "roving backstage circus" in a New York Times profile.
Another defining feature of Into The Gloss that quickly drew a stark contrast between Weiss' blog and competing sites was Weiss' inclusion of celebrity profiles. Weiss leveraged the connections she had made as an intern at Vogue (and before Vogue, Ralph Lauren and W magazine) to secure interviews with celebrities such as comedian Aziz Ansari, model Emily Ratajkowski, actress Danielle Brooks, and rapper Angel Haze—all within the first year of the blog going live.
"The connections I made in my jobs and internships definitely helped me to get better access to people, or at least to have some credibility to be able to say, 'Let me interview you.'" – Emily Weiss
By 2013, Into The Gloss had begun to more closely resemble a real fashion magazine rather than an upstart beauty blog. Albeit inadvertently, Weiss had been gathering market research data and building a growing audience of loyal fans for almost three years. But it wasn't just Weiss' content her readers were responding to. Her customer-focused approach to beauty resonated strongly with women who felt their voices had been ignored by beauty's legacy brands. Positioning her brand in this way was the smartest move Weiss had made thus far.
The genius of Weiss' initial approach was that it leveraged peer-to-peer recommendations from readers to build trust in the brand and harnessed the power of social media as a research tool. Weiss didn't use content to promote her brand—content was the brand.
In 2013, Weiss and her team began to meet with venture capitalists in an attempt to secure funding to help Into The Gloss grow. With traffic of 2M uniques per month and more than 120,000 followers on social media, Weiss knew she was onto something big. The success of Into The Gloss had shown Weiss the power of smaller, agile brands in the beauty industry to connect with customers in an immediate, authentic way. Weiss wanted to apply this to selling products. To do this, Into The Gloss secured $2M in venture capital funding, led by Forerunner and Lerer Hippeau Ventures, plus individual investments from a handful of angels.
All Weiss needed now was to leverage the momentum her blog had built in just three short years to propel her venture to the next stage of growth.
It was time for Glossier to be born.
2014-2016: From Fifth Avenue to Sand Hill Road: Glossier Goes Shopping
Although Weiss had raised $2M in venture funding and finally had enough cash to take her operation to the next level, she didn't want to derail her growing company by rushing into product development.
Most startups fail because they waste time and money developing products that people don't need. Rather than rushing headlong into product development, Glossier took a more cautious approach. Weiss and her team continued to build the Into The Gloss brand in anticipation of Glossier's launch, building both the reach and audience of the blog. In addition, Weiss would also begin nurturing new channels for her brand such as Instagram. Weiss' company would later leverage its considerable reach to sell a small number of high-quality products more cheaply than its competitors.
By this point, Weiss realized what she had on her hands was becoming more than just a blog. In her quest to learn more about what women really wanted from their beauty products, Weiss began to speculate about what an Into The Gloss product line might look like. Weiss partnered with a chemist in California to begin developing the first of Glossier's products. The very first product Glossier developed was a moisturizer that wouldn't aggravate acne. After this, Weiss and her team began working on what would become the company's first four products.
"I always thought that Into the Gloss was and is the beginning of something bigger. The product line [Glossier] came about when I asked myself: 'How can we create really essential products when there is so much out there in the world?'" – Emily Weiss
One of the smartest moves that Glossier made during this period was to use its already strong content to overcome a glaring shortcoming that legacy beauty brands had failed to solve. Buying and using cosmetics is a deeply personal, intimate experience. Part of that experience is discussing your personal beauty needs with a knowledgeable expert at retail outlets such as Sephora. For traditional retailers, that model simply didn't translate to the internet. This was a huge opportunity for Glossier. The company had already built an audience and established trust via its content, and could use that to distribute its products.
Glossier was able to connect with its customers on a personal level in a low-cost way to build its brand. Even with a growing editorial staff, it was still cheaper to produce quality content and distribute that content via social than it would have been for the growing company to take out traditional ads —the favored approach of Glossier's legacy competitors. This was the brilliance of Glossier's approach to community. The brand had built a trusted relationship with its customers—and it did so very inexpensively.
2014: Into The Gloss raises $8.4M as part of its Series A round with Thrive Capital.
Into The Gloss' seed and Series A rounds were significant – not least because Weiss didn't have a company or a clearly defined product idea when she began taking VC meetings. Only Kirsten Green, founder and managing director of Forerunner, offered to fund Weiss' idea. Only 7% of founders who received venture capital funding between 2009 and 2015 were women. Green later joined Glossier's board.
2014: Glossier launches as a sister brand to Into the Gloss.
When Glossier was finally unveiled to the world, many of the most important puzzle pieces had already been put into place. There was no need to establish the brand – Into The Gloss had done that. By cleverly positioning Glossier as an off-shoot sister brand of Into The Gloss, Weiss and her team could focus on building the brand as an extension of the work they had already been doing, rather than starting from scratch. Even more importantly, this positioning ensured that Glossier had a large, engaged audience of fans to which it could market its new products.
2014: Glossier launches its first set of products: a four-piece collection of skin lotions and balms priced at $80. Individually, the four products cost between $12 and $26.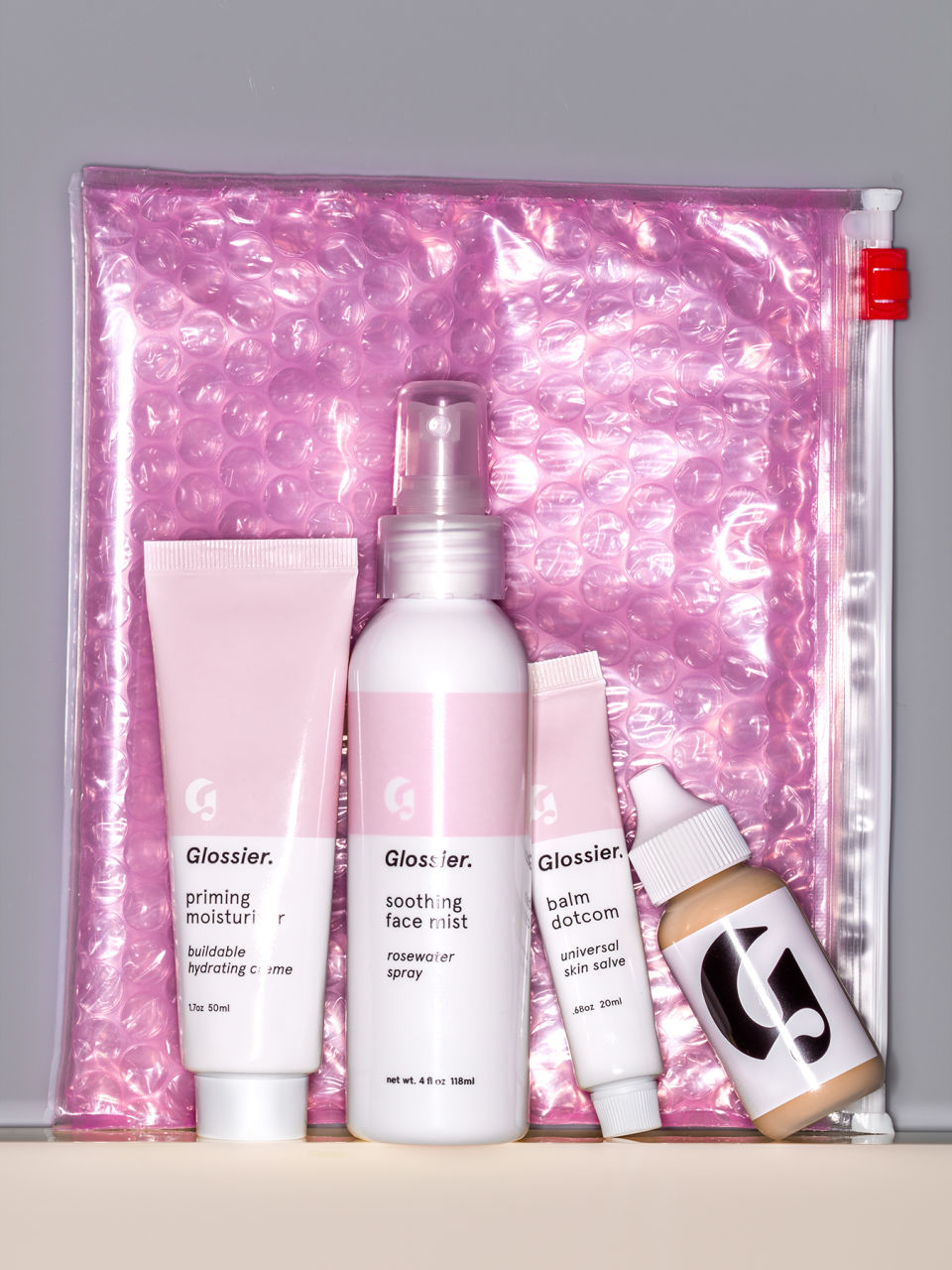 2015: The company begins making its Milky Jelly Cleanser – one of its most popular products – after asking the Into The Gloss community what they wanted in a "dream face wash."
"Development started on Into The Gloss. Comments on the open thread helped decide what the product would be, and we were able to bring the customers on the journey with us." – Ali Weiss, Director of Marketing, Glossier
2015-2016: The company's inventory management is poor. The company sells almost a year's worth of product in three months due to overwhelming demand. Weiss publishes an apology post on Into The Gloss to explain the product shortage. Shortly after, Glossier hires a director of supply chain management.
By this point, Glossier was well established. The Glossier e-commerce site was attracting roughly 1.5M uniques per month, and after successful launch events, the company's small range of products was selling well. Now Glossier had to figure out how to scale.
Fortunately for the growing company, it had two key advantages it could leverage to scale its operations:
The vast amount of research data Weiss and her team had amassed through Into The Gloss, which the company could use to develop new products and improve existing ones.
The company's direct-to-consumer business model. Not having to rely on advertising meant that Glossier's customer acquisition costs were lower. The company also didn't need to give retailers a cut. This meant Glossier could continue to sell high-quality products directly to its vast community of fans at lower prices.
Glossier's community and the depth of data they had about it gave Weiss and her team a huge competitive advantage. They had the kind of market research that larger, legacy beauty brands would do almost anything to get their hands on.
Eric Liaw, general partner at IVP, the firm that led Glossier's $24M Series B round, described Into The Gloss as "a market research goldmine." Consumer retail expert Richie Siegel had similar sentiments about the value of Weiss' brand. "You could argue that she was gathering data for four years," Siegel said.
Another unconventional aspect of Glossier is its approach to pricing. Traditionally, the beauty sector has used price to denote value. The more expensive a beauty product is, the greater the perceived quality. However, this approach stood decidedly at odds with Glossier's mission. Weiss wanted everything about Glossier to be attainable and relatable. High prices did not align with this goal. By making quality products and selling them at a reasonable price point, Weiss was making a statement about her brand and making sure her products were affordable to more prospective customers. This is the democratization Weiss envisioned when she launched Into The Gloss in 2010.
Glossier needed capital not only to build its products, but to build out its executive team. Weiss had a strong grasp on the creative elements of the business, but she needed help and guidance for the business to grow. Weiss and her investors made a smart move by hiring a roster of executive talent with strong business acumen to complement Weiss' bold, creative vision.
The influx of capital and leadership talent allowed Glossier to grow quickly, but the real engine of growth was Glossier's continued focus on its brand attributes and philosophy. By this point, Glossier was a product company – but it didn't act or think like a product company. Glossier had built a loyal fanbase, and now it needed to expand. Glossier had a well-defined brand identity, a cult following in the United States, and it was almost ready to transition from a niche online beauty product company to a global retail presence.
2016-Present: Ready for Retail, Glossier Goes Global
By 2016, Glossier had begun to position itself as much of a lifestyle brand as a product company. The biggest shift for Glossier during this period, however, was the company's move into physical retail.
Glossier started out with a pure e-commerce business model. It acquired customers cheaply through its content and social, and sold this audience products at affordable price points by cutting out middlemen retailers. Although it might seem counterintuitive for an e-commerce company to branch out into brick-and-mortar retail locations, it made perfect sense for Glossier.
By opening its own stores, Glossier retained control over its brand and could own the entire Glossier retail experience end-to-end. Glossier could also broaden its footprint beyond its core audience of Millennial women to older demographics without having to split the profits with retailers or rely on traditional department stores as a pillar of growth.
"I hope that we transcend being a product company. I think product is maybe 50% of what we do. There's a whole other 50% that we offer people who are in the world of Glossier, and that's seeing the world through Glossier-colored glasses. It's an outlook. It's a certain perspective, not just product — there's far too many 'just products' in the world." – Emily Weiss
Weiss had first hinted about Glossier's forthcoming move to retail in a blog post on Into The Gloss in November. The post featured a single image—a white, industrial-looking space under renovation. Weiss teased her audience by promising more details on Glossier's imminent move into retail, but Weiss' die-hard fans wouldn't have to wait long.
2016: Glossier opens its first retail space, a showroom on the sixth floor of the company's Manhattan headquarters.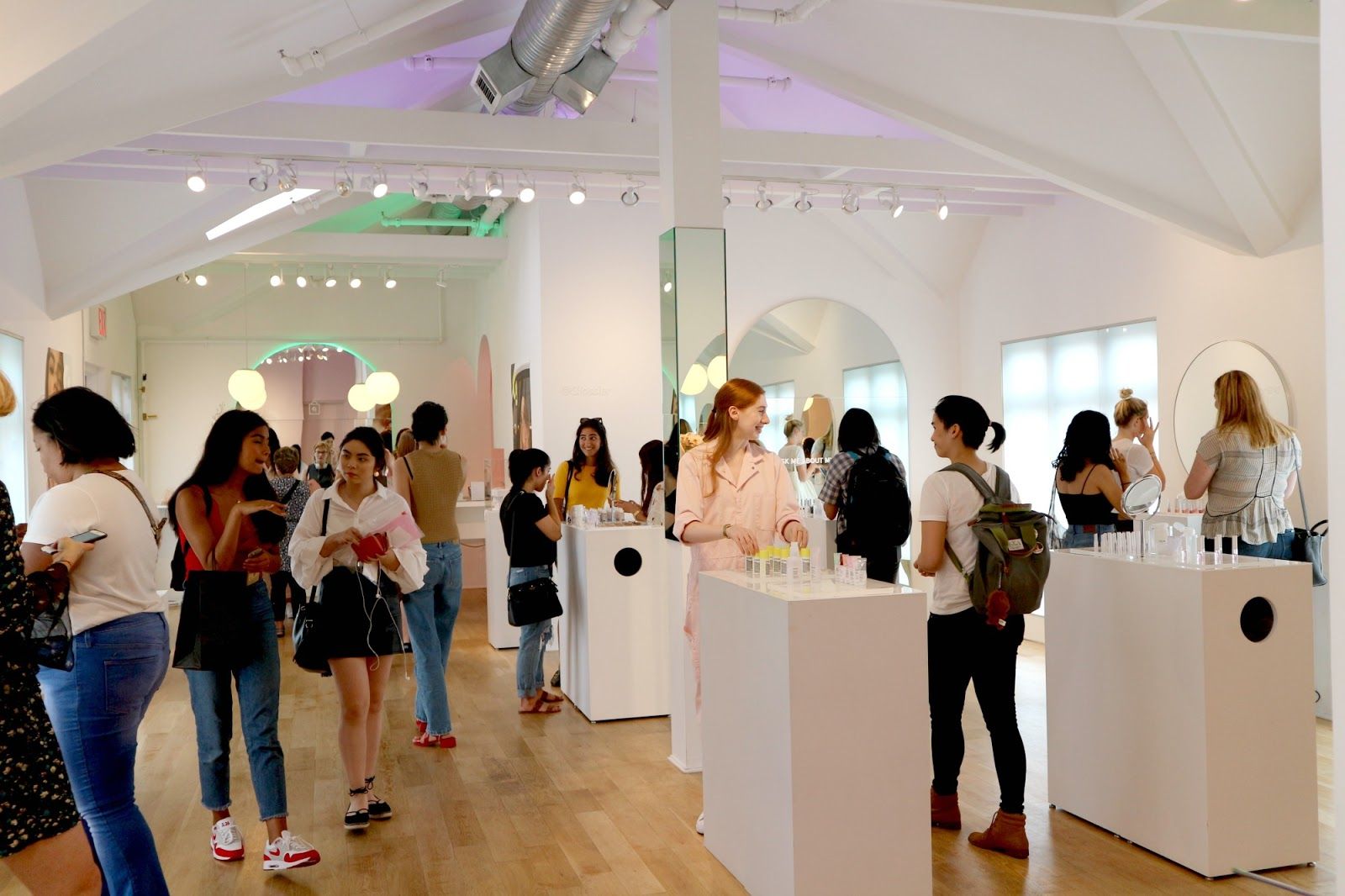 Even Glossier's approach to retail defies conventional wisdom. The brand's flagship space in Manhattan quickly became far more than a space to showcase and sell Glossier's growing range of products. Rather than a purely transactional space, Weiss and her team intentionally created the company's flagship store as a welcoming space where women could hang out and learn more about beauty in a general way—the same element of the traditional beauty experience that legacy brands failed to translate to online commerce. This aligns with the brand's mission and values perfectly, and creates a seamless transition between the brand's online presence and its real-world location.
"We would rather people come and actually stay than people come buy something and leave. We had girls who were masking on a roof deck for 45 minutes just hanging out with their friends while their phones charged at a station inside. And for us, that's success. That's really fun. Someone's coming to hang out with friends or get to know other people or give us some feedback about the products she already owns." – Emily Weiss
2016: Glossier launches its Super Serums product. Each of the four serums contains a different combination of vitamins, which were developed following an informal reader poll on supplements in an Into The Gloss blog post.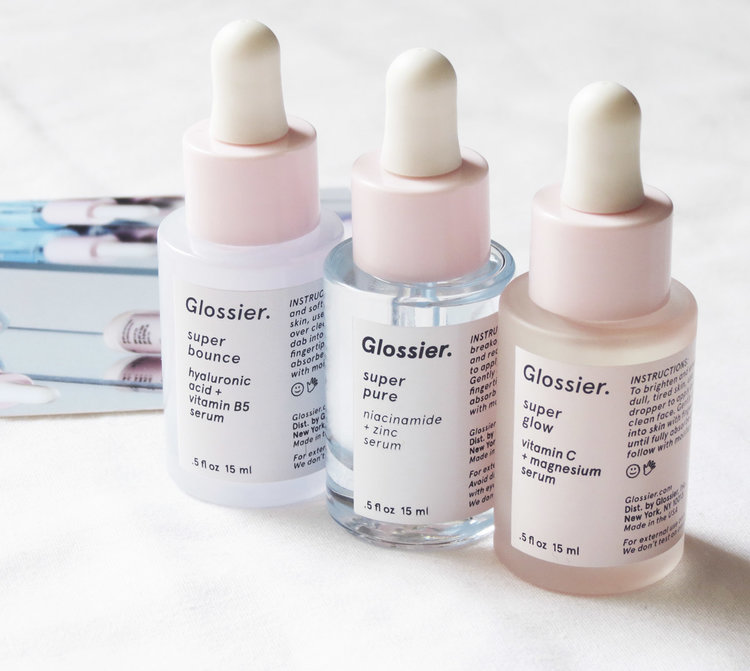 2017: The company announces plans to expand to retail/overseas operations. Markets targeted initially include Canada, the United Kingdom, and France.
2017: Glossier introduces international shipping for the first time, offering delivery to customers in Canada and the U.K.
2017: Glossier launches pop-up stores in overseas markets the company plans to target. Pop-up stores in Toronto, Canada, and Paris, France, are both launched in September. The French pop-up store is established at Colette Paris, known in fashion circles as "the trendiest store in the world," shortly before the iconic retailer closed permanently.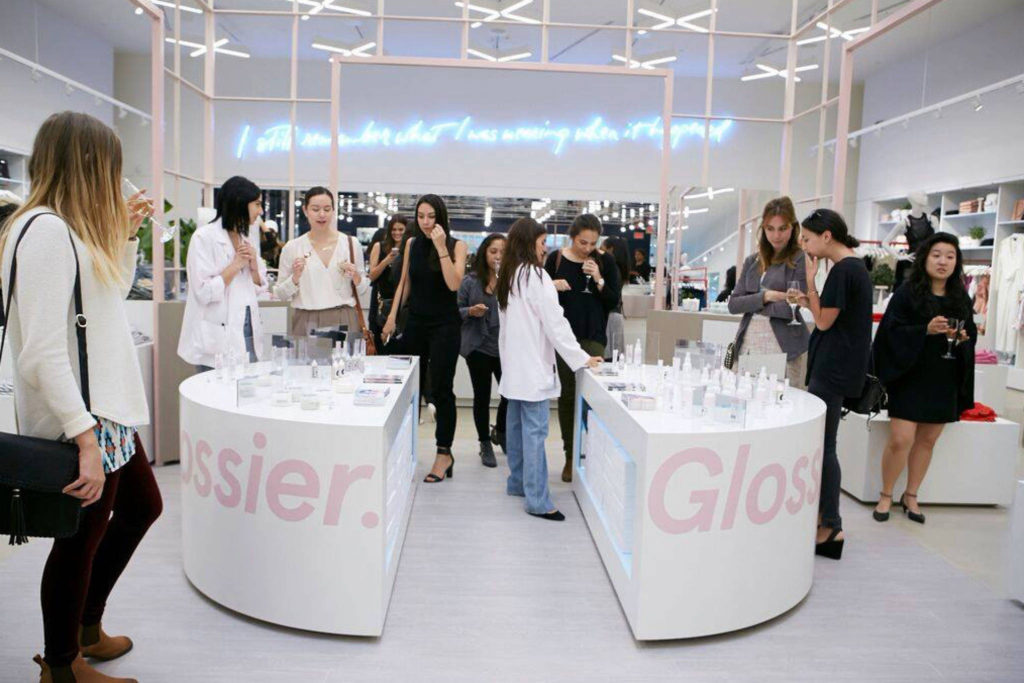 2018: The company raises $52 million in Series C funding. The funds are used primarily to finance Glossier's overseas retail expansion and further product development.
Glossier's move into traditional brick-and-mortar retail was practically inevitable. However, Glossier aimed to reinvent the beauty retail experience. Glossier was successful online because it had built its brand around its personal, authentic connection with its customers. It applied this same principle to its retail locations. Rather than opening stores with the sole intention of selling product, Glossier was also creating spaces for its community to hang out. By 2017, Glossier's flagship retail space was generating more sales revenue per square foot of space than the average Apple Store, and boasting a 65% conversion rate.
These days, Glossier resembles many traditional beauty brands. It has a strong e-commerce platform, a loyal community of highly engaged fans, and now physical retail locations. What sets Glossier apart is its business model. The beauty industry's legacy players had built their brands on the backs of their product lines. Unlike Glossier, however, they didn't have a clearly defined brand identity online – or a legion of social media-savvy brand evangelists. Glossier approached beauty retail from the opposite direction. It defined and built its brand online first, then branched out into physical retail as an extension of that brand.
Even after further investments of venture capital funding in 2016 and 2018, Glossier remained cautious in its approach to product development. The company could have easily ramped up development and production of new product lines dramatically to appease investors. Instead, Glossier never strayed from its tried-and-trusted approach of canvassing for opinions via social before incorporating that feedback into its formal R&D process. This also ensured Glossier could continue to focus on producing high-quality products at accessible price points to drive sales and foster continued growth.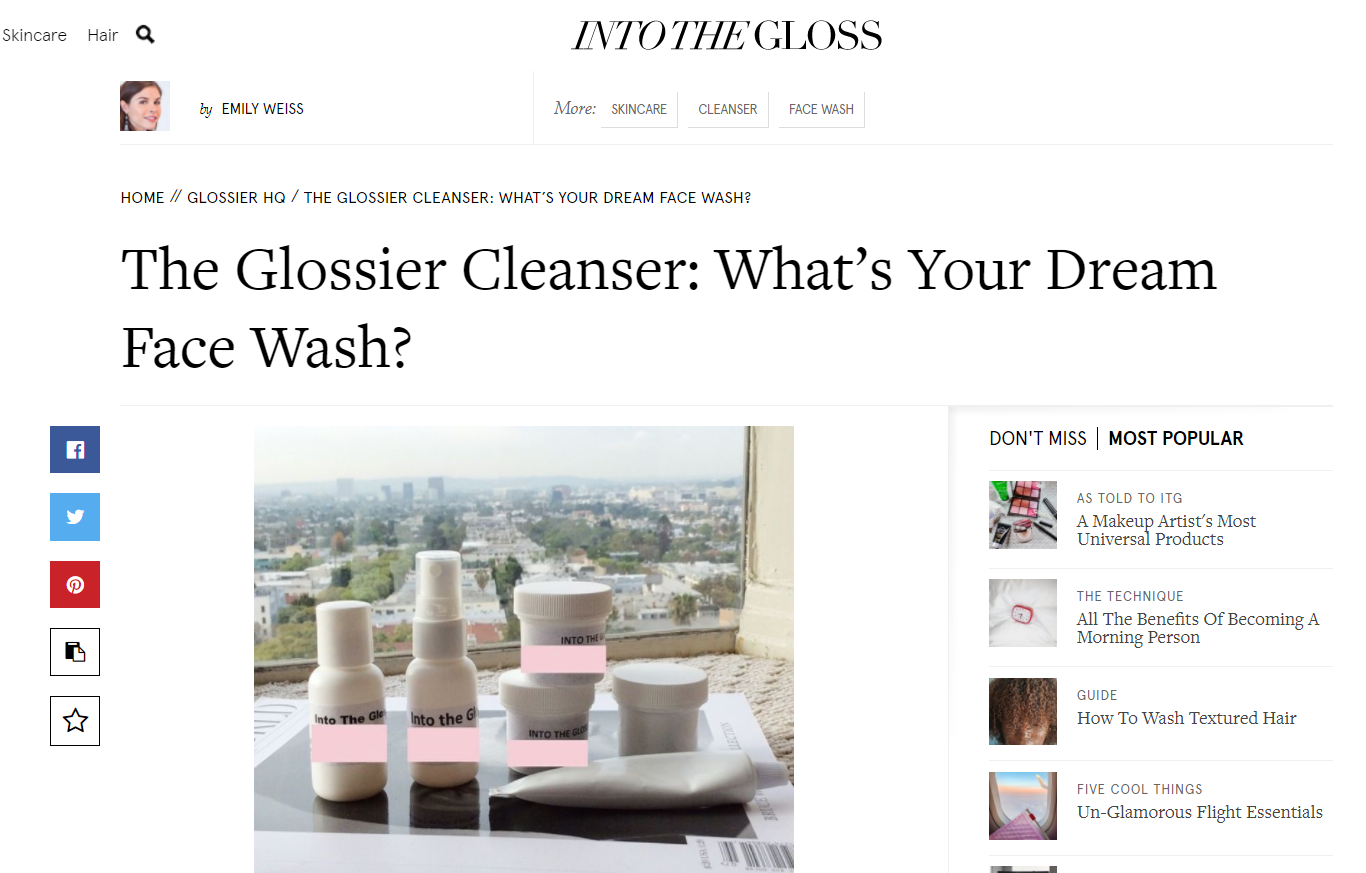 Glossier even manages to make its product research process an opportunity to engage with its community. When the company began to develop its Milky Jelly Cleanser in 2015, Glossier invited its audience to tell the company what they wanted in a cleanser. The community responded to the post with hundreds of comments.
After updating the community in a follow-up post nine months later, some readers asked why Glossier had chosen to package its new cleanser in a jar rather than a pump-bottle. Glossier used this opportunity to tell readers more about the product development process, and explained that the resulting cleanser was too viscous for a pump. This explained the rationale behind a key product decision, let community members know that their feedback had been taken into genuine consideration, and maintained the transparency and inclusion that Glossier's loyal fans had come to expect from the brand.
Weiss' growing company aligns with what many Millennial women want from a beauty and cosmetics brand. However, for all its innovation, Glossier is most definitely a product of its time. Like other direct-to-consumer (D2C) brands such as Casper, Dollar Shave Club, and Warby Parker, Glossier tapped into a highly effective business model by using the internet to connect directly with its consumers. This allowed Glossier to eschew advertising costs, own the entirety of the customer relationship, and deliver higher-quality products for lower prices.
In today's D2C paradigm, it's no longer about control over supply—it's about control over demand.
Glossier has made some very smart moves, but the company's smartest move was to adopt a flywheel approach to its social strategy. For Glossier, Instagram is simultaneously a social promotion channel, an online product R&D lab, the nexus of the Glossier community, and a source of user-generated content that delivers significant returns after the initial investment of time/resources. This clever use of social, combined with Glossier's mission to empower women rather than just marketing to women, has resonated strongly with Glossier's audience.
By focusing on the experience of Glossier as a brand and maintaining its strong sense of community, Weiss' company has emerged as a truly customer-focused brand that is changing how women perceive, talk about, and use beauty products.
However, the next eighteen months to two years will be critical for Glossier. The company was able to grow rapidly because it hit on a cost-efficient business model. The challenge for Glossier will be to maintain that cost efficiency as it builds out its retail operations and expands overseas.
Where Glossier Can Go From Here
Glossier's cult-like following and meteoric growth would be the envy of any beauty brand, and the company is well-positioned to continue its ambitious growth plans – but where can Glossier go from here?
Expansion of Glossier products into the haircare vertical: The global haircare industry is estimated to be worth approximately $87B in 2018, which means it's almost inevitable that Glossier will eventually diversify its product lines to incorporate haircare products. Given the company's recent lateral move into fragrances, this seems a very strong possibility.
More personalized products: Although Glossier has little direct competition, more companies are moving into the space (such as The Ordinary brand of cosmetics produced by Deciem's Abnormal Beauty Company brand). Greater personalization of Glossier's products is one direction Glossier could take. Curology is an excellent example of this model, and is currently one of the only companies specifically developing products for the nascent individualized skincare market.
Subscription model: Although Weiss resisted calls for her company to introduce a subscription model early on in its growth, this remains a possibility for Glossier, particularly if the company wants to increase the price of its products in the future. Balancing cost vs. quality would be a challenge in this scenario, as Glossier's brand values of affordability and inclusivity would have to be maintained to avoid angering loyal fans of the brand while simultaneously offering greater value incentives to prospective subscribers.
Expansion overseas: Korean beauty products are considered among the very best produced anywhere in the world, and many Western retailers carry a variety of Korean skin care and cosmetic products. As competition within the beauty vertical intensifies, Glossier could broaden its international reach and continue to produce high-quality products by entering into partnerships with overseas firms in competitive, influential markets like Korea.
Entering a competitive market like the beauty vertical might seem like a losing battle. It's really hard to challenge established, legacy incumbents right out of the gate. It's much easier if you take your time, do your research into what these brands struggle with – then do it better. Glossier went up against some of the biggest beauty brands in the world. It beat them by smartly targeting their weaknesses – a lesson every entrepreneur can apply to their own business.
What Can We Learn From Glossier?
Regardless of your vertical, there are plenty of lessons to be learned from Glossier – especially when it comes to telling your story and building your brand.
Identify opportunities to hit your competition where it hurts
Glossier scored early wins by publishing great content and leveraging smart positioning, but the company didn't shy away from taking on enormous legacy players in an intensely competitive space.
So how do you identify these opportunities?
Find low-cost ways to challenge incumbent businesses that rely on paid acquisition. Legacy media is expensive, slow, and lacks any meaningful targeting parameters. Think of ways you can make your product sell itself. How can you leverage content, social media, and word-of-mouth to spread awareness of your product?
Think about how your competitors actually sell their product. Are they self-serve, or do they rely on reps? If so, this is a golden opportunity to go directly to your competitors' customers and make them your customers by dealing with them directly.
Look for ways to cultivate a stronger sense of community around your brand/products. Weiss' Into The Gloss relied heavily on community engagement, for everything from content ideas to product research. How can you create a stronger, more inclusive community around your brand? How can you invite your audience to become active participants instead of passive observers?
Make your story (and your customers' stories) human
Weiss launched Into The Gloss because she felt nobody else in the beauty industry was giving women a voice. This dissatisfaction with legacy beauty brands ultimately shaped Glossier's entire brand identity. What made Into The Gloss' content so compelling was that it told stories that nobody else was telling about real women. Weiss' content was irresistible because it had a fresh, original angle and gave women a voice.
Take a look at the content you're publishing, then ask yourself some questions:
Whose story is your content telling – your brand's story, or your customers' stories?
What brand attributes does your content promote? How would someone unfamiliar with your brand feel after reading some of your content? Is your content more helpful, or more promotional?
Is your content relatable? How can you make your customers' stories relevant to your prospective customers' problems?
What does your content ask of your audience? Are you asking for your readers' time and attention, or just their money? Are you asking your audience to trust you, or showing them why they should trust you?
Can you find ways to repeat these stories to build your brand in the mind of your audience? Could you base a social campaign around a customer story? Could you translate your brand's content to a real-life meet-up or event?
Make your brand medium-agnostic
Although Glossier's approach to growth via content was quite typical (i.e., launch a blog, grow traffic, gain a following, launch product), the brand has always focused on targeting its prospective customers where they are, not where Glossier wants them to be.
Think about your social media presence, then ask yourself some questions:
Where are your most active, motivated prospects spending their time online – and does this align with your social strategy? Put another way, are you asking your prospects to consume your content on specific platforms, or are you publishing content in the places your prospects prefer to get their content?
Are you really listening to your customers, or just speaking at them? Is the dialogue around your brand an interactive, two-way conversation, or a corporate broadcast?
Think about how your brand communicates with your customers. Are you proactively reaching out to your most engaged prospects and asking them how they feel about your brand, or are you just reactively responding to your potential customers' problems or questions?
All That Glitters
Glossier is one of the best examples of the importance of establishing a strong, cohesive brand from the outset of any business. Weiss didn't necessarily set out to launch a product company. She soon realized, however, that her personal philosophy about what beauty could be was a perspective that millions of women shared—and wanted from a beauty brand. By smartly building a community around her ideas and not just a product line, Glossier has bridged one of the most fundamental gaps in an industry worth billions of dollars that's also notoriously hostile to newcomers.
Weiss and the rise of Glossier just go to show that, with a little planning and some savvy, it's definitely possible to challenge entrenched legacy players and beat them at their own game by strategically targeting their weaknesses.
Get the best content each week for creating better products, faster.