Don't Make This Common Mistake With Your Startup Business Model
The early decisions you make around your business model have teeth later on. I talked about this a couple years ago in an interview with Groove:
"We used to have a free plan at Crazy Egg and decided to stop making it available for new customers. It was a short-term great decision for increasing revenue but I believe it was not the best decision for the long-term."
This short-sighted decision put a cap on our growth. Crazy Egg's early business plan allowed people to track up to five pages on their websites, and up to 5,000 visits a month for free. While it was great for quickly showing people the value of Crazy Egg, it meant paying really high server costs each month to support free users. So we cut the free plan.
While this immediately helped boost our revenue, it put a cap on our long-term growth. We didn't experiment and innovate with our business model and missed out on a huge potential market.
Innovating on Your Business Model
We hadn't realized how much our choice of business model at Crazy Egg would effect our long-term growth. We picked one and ran with it, so there was no way to know that it was actually the one that would work best for us. Turns out it wasn't.
A lot of SaaS founders make this same mistake. They don't think about their business model as part of a larger, long-term picture of their company. At Price Intelligently's SaaSFest conference, Brian Balfour pointed out that companies overly fixate on product-market fit. What they forget is the business model.
If you're trying to pivot a product from consumers to teams, you have to evolve your product to help teams. In the same way, you also need to evolve your business model to get the tool to those teams quickly and successfully.
When you've found a model that works, it's easy to keep the things the same, whether it's your pricing strategy, target audience, or marketing channels. But what's taken you this far won't necessarily be enough to propel you over the next two, five, or ten years.
None of the $1B+ household names in SaaS have the same business model today that they started out with: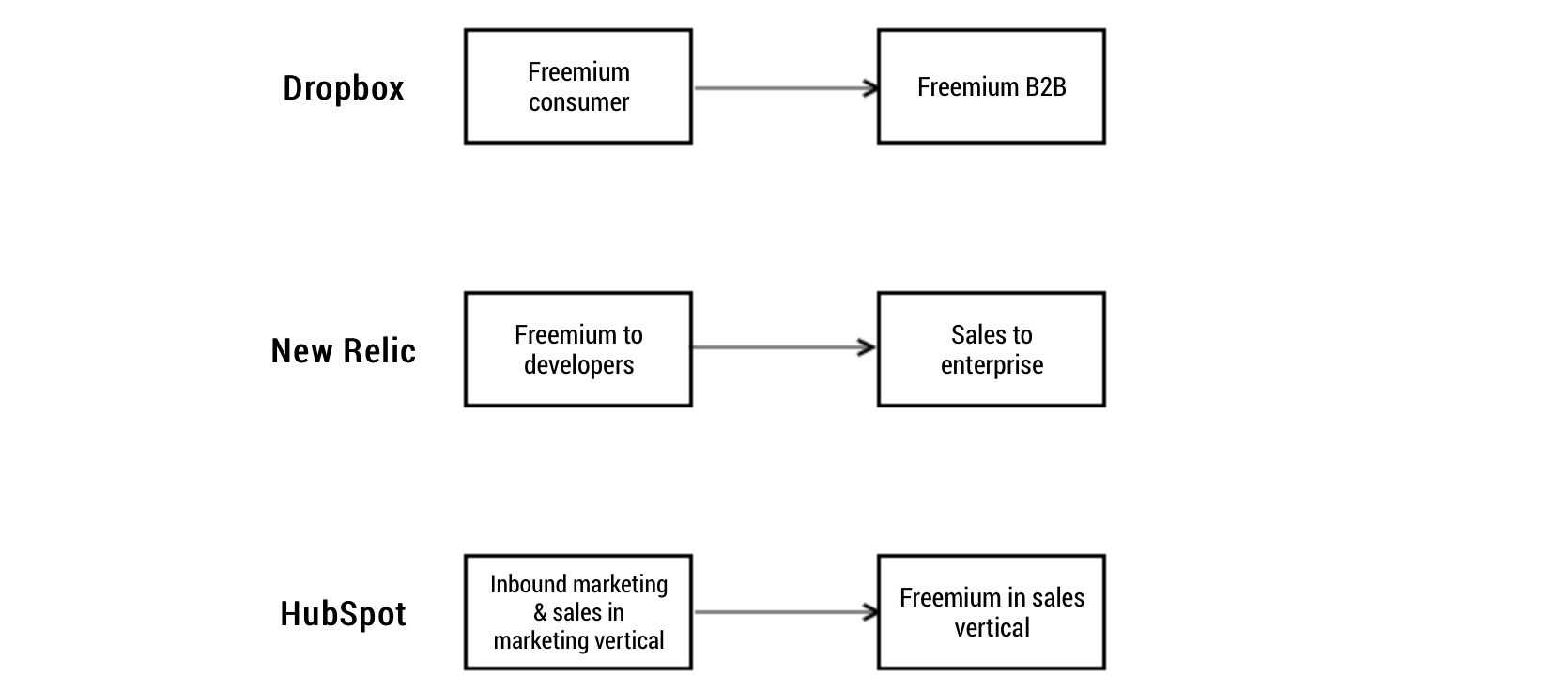 Dropbox championed the freemium to consumer model—and for a long time, it worked. But as competition increased and user growth slowed, to keep ramping up revenue they expanded to SMBs/teams.
New Relic began with a freemium product that developed a cult following in the developer community. When it became absolutely essential to developers' work, they could move upmarket to the enterprise where the money was.
HubSpot took over inbound marketing by selling to sales teams. But to keep fueling their growth engine as a larger company, they expanded into the sales vertical by launching a new freemium product.
In this article, we'll break down the evolution of three hyper-successful SaaS companies. We'll walk through how they evolved their initial business model, and how you can do the same.
Dropbox: From Freemium Consumer → Freemium B2B
Dropbox co-founders Drew Houston and Arash Ferdowsi started their service in 2007 with the vision of making file-sharing simple and affordable for everyone. They pioneered the viral individual freemium model and it spread like wildfire, hitting 200 million users in the company's first five years.
As competition heated up from Box, Google Drive, and Microsoft OneDrive, it quickly became clear that Dropbox couldn't live up to its lofty multi-billion dollar valuation with a freemium consumer business model—the market simply wasn't big enough. So in 2012, Dropbox hired its first sales rep in a push into B2B and enterprise sales.
While the initial model had a freemium tier and a $99/year Pro plan, the model for teams sold three different plans starting at $150/year per user. They created a Standard plan, an Advanced plan for teams with more needs, and a customizable Enterprise plan. Dropbox's core advantage was the strength of its product and how easy it was to use. By focusing on B2B sales and team plans, they could grow revenue by upselling individual consumers to larger team plans.
It was massively successful. While Dropbox's overall user growth was 60% from 2014-2016, within that same time frame, the business user base grew by 400%. They'd tapped into an entirely new source of revenue.
Let's look at how they did it:
Their core customer remained the same: The original Dropbox product had a broad value proposition and quick time to value, so it spread throughout the individual consumer market quickly thanks to the low-friction freemium plan. This created a base of core users. When Dropbox started officially selling to teams, they'd already permeated the market by being useful for the individuals who made up those teams.
Using Dropbox for work was a natural upgrade: An increasing percentage of individuals who began using Dropbox on a freemium plan would upgrade to a paid plan and use it to store files at work. As more and more team members at a business used Dropbox to store their files, it made more sense for the company to upgrade to Dropbox Business because the new built-for-teams product is built specifically for team-wide sharing.
They shifted their channel from viral growth to sales: In 2015, Dropbox hired a head of sales. They focused more on generating inbound sales, optimizing sales emails, and selling to international markets. This represented an intentional move to target teams, rather than just relying on grassroots adoption by the teams that freemium users were part of.
They adjusted their product to reflect the needs of teams: Businesses have specific needs, and a product for them needs to obviously cater to them. Dropbox acquired Hackpad, the collaborative note-taking application for teams, and has since rolled out their own version with Paper. They've built out integrations that would be useful for businesses, like their Microsoft 365 integration. This is all in line with their new mission to become a "universal glue that connects teammates."
Dropbox needed to shift business models to survive at the rate they were growing. The B2B team sales on top of their freemium plan was the company's life raft. That innovation propelled them to over $750M in revenue today.
New Relic: "Land and Expand" from Developers → Enterprise
Unlike Dropbox, New Relic wasn't built for viral acquisition by the everyman. New Relic was built for a niche community of developers using Ruby on Rails. There were other tools at the time to help developers test their applications, but New Relic CEO and founder Lew Cirne wanted this product to be the cheapest and the best.
The developers loved it. Instead of using competitors' products that their CIOs bought, they could start New Relic on a freemium plan and make it work for them. Pretty soon, the community couldn't do work without it. It was only natural that the product made its way up to CIOs and became a huge enterprise solution.
New Relic's old freemium model let developers, mostly at SMBs, start using the product immediately. The pricing plan now is almost entirely custom to accommodate larger and larger customers with more complicated needs.
This shift was completely innovative. At the time, enterprise solutions weren't starting in SMB and working their way up; they were selling directly to CIOs. But Cirne has always seen his approach as the best way to build traction:
"The important thing is to start focused and gradually grow your footprint as you gain momentum."
And that strategy has been incredibly lucrative for New Relic. In the past few years, the company has acquired larger customers and more cash flow.
Here's how New Relic did it:
New Relic had high net negative churn: The new revenue from expanding existing accounts was greater than the revenue lost from downgraded or churning accounts, meaning a net increase of revenue from their existing customer base alone. New Relic was expanding existing accounts—14% each year on average.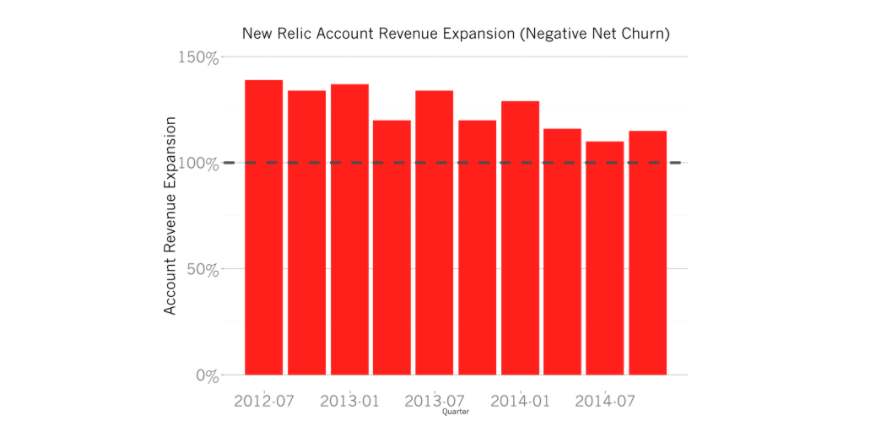 New Relic pioneered the land and expand growth strategy: I've written about the potential for growth with land and expand models before, but New Relic was one of the first companies to pioneer this scaling strategy. Once New Relic had gained a foothold as a tool for developers, the tool became indispensable to their work. Expansion was natural and necessary.
They scaled when it was necessary: In 2011, New Relic only had three sales people. They kept a bare-bones sales and marketing team and always deferred to product to avoid unnecessary overhead in the first several years of the business. Then in 2014, they tripled their spend on sales and marketing. If you're going to sell to the enterprise, you need a sales team.
New Relic went from being an underdog SMB solution to a best-in-class enterprise solution by coming at the market from a unique angle. They positioned themselves as a tool to be used, instead of a tool to be purchased. And as more and more people used it, they evolved their business model accordingly.
HubSpot: B2B Inside Sales → Freemium B2B
While landing and expanding from a self-serve, freemium business model is common in SaaS, you don't often see business models shift in the opposite direction. Yet that's exactly what HubSpot's done, starting with its sales product, Sidekick.
HubSpot began by evangelizing inbound marketing to SMBs and mid-sized companies, building movement first before doubling down on building an all-in-one marketing solution. They focused on customers with an average revenue per customer of $10,000.
In 2013, HubSpot co-founder Brian Halligan set out to expand a new $100M line of business for the company by expanding into sales, and that was how Sidekick got started. Sidekick, a tool for Inbound SalesSidekick, is designed to manage inbound sales processes. The free plan made it easier for HubSpot to carve out space in a crowded sales market, with the potential for larger upsells into HubSpot's all-in-one platform.

It worked. As HubSpot VP of Growth Brian Balfour recounts, Sidekick went from $0 – $10M in annual recurring revenue. The freemium plan allows for self-service adoption in a crowded market, as does the forever-free CRM that HubSpot added to their stack along with Sidekick.
Today, Sidekick is integrated into HubSpot's freemium sales solution, and HubSpot has also announced freemium plans for its marketing and CRM solutions.
It worked because these freemium solutions could lean against the more established marketing product. HubSpot's Brad Coffey explains:
"We have a unique opportunity to monetize the CRM effectively for two reasons. First, because we already have thousands of customers on our platform, we've solved many of the cost and scaling issues that would otherwise make delivering a free CRM cost prohibitive. Second, we already sell software."
HubSpot's CRM, Sales, and Marketing platforms help the company target the "core HubSpot customer" across different verticals.
Here's how HubSpot moved from a sales model for their marketing platform to a freemium model for their sales platform:
HubSpot expanded upward in the marketing vertical: HubSpot defined inbound marketing through the tools that they offered, and sold their product as an all-in-one solution. They used a sales team from the very beginning—a high-touch model that helped them target customers with higher lifetime value than freemium customers.
They first established authority in one vertical: In 2013, they were primarily focused on SMB users. At the time they were one of the only SMB inbound marketing solutions, so they were smarter to focus on the audience that needed them.
They adjusted their model for a more competitive market: When HubSpot launched Sidekick (with freemium plans) and their free CRM, they were competing with giants like Salesforce for customers. They wanted to get more users from the same core Hubspot market, but they couldn't approach them with a product in this vertical in the same way that they approached them in the marketing vertical in 2006.
They created opportunities to monetize freemium customers: Sidekick has a free plan to get users in the door, but the $50 plan caters to the core user, and there is also a $200/month reporting option. Since all of their products work together, HubSpot can more easily cross-sell users of compatible free products to paid products.
What works for a company in one time and sector won't necessarily work in others. HubSpot scaled into a new vertical at a new time by using different tactics than those they used to grow their business initially. They made sure to adjust their model so that they could provide value to customers faster by giving valuable tools away for free.
Dropbox, New Relic, and HubSpot are all unique cases, but together they demonstrate the wide range of opportunity for growth when you innovate on your business model. Each approach and each result is different because each change in business model fits specifically with the product, market, and channel changes for each company.
But that's the point. In order for you to create the best business model for your company, it's going to look different from what you've seen before.
A Change in Business Model is a Growth Opportunity
Founders thinking about which business model is best for their company need to consider:
What is your product's value proposition, and what is its time to value?
What is the competition like in the space?
What is each of the target customers worth? What is the potential market value?
What is the quickest way you can help your customers win?
A business model has to be well-planned and cohesive with changes to your product and your target market. But, evolving your business model allows you to take advantage of new opportunities. Companies that grab at these opportunities are the ones that grow and win.
Get the best content each week for creating better products, faster.